The 2021 Subaru Love Promise Customer and Community Commitment Award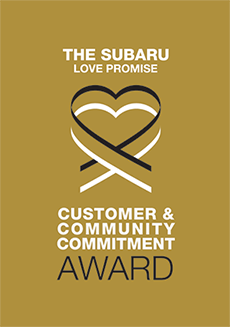 We've been nationally recognized for our dedication to our customers, our community, and the Subaru Love Promise.
We're honored to receive the 2021 Subaru Love Promise Customer and Community Commitment Award. This award nationally recognizes elite Subaru retailers who provide an exceptional customer experience at every interaction with Subaru. These retailers have also demonstrated an outstanding commitment to supporting passions and causes in their local communities in important areas such as the environment, community, health, education, and pets.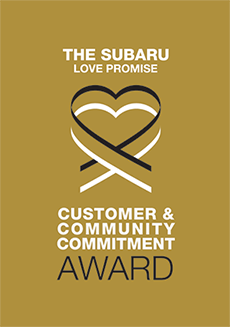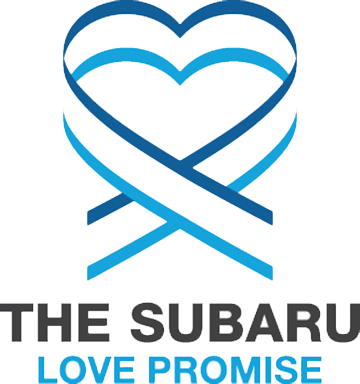 What is the Subaru Love Promise?
Subaru and our retailers believe in making the world a better place and the Subaru Love Promise is our vision of respecting all people. This is our commitment to show love and respect to our customers and to work to make a positive impact in the world.
How is Bill Kolb Jr. Subaru dedicated locally to the Love Promise?
Our Love Promise can be seen in various partnerships with local charities and non-profits. We're grateful for the opportunity, not only to be a part of our community, but to serve it as well.
South Orangetown Middle School
Leukemia & Lymphoma Society
Love Promise Stories from Bill Kolb Jr. Subaru
Subaru and Bill Kolb Jr. Subaru believe in making a positive impact on the communities in which we live and work. We uphold that belief through our Love Promise Community Commitment. Every month, we select inspiring stories from customers and partners from around our area who strive to support our collective commitment and feature them here
Eagle Scout Project - Christopher M
I am a Volunteer Firefighter and for my Eagle Scout Project I decided to build a Low Angle Rope Training Course that The Greenwood Lake Fire Department would use to train area firefighters. I needed support to raise the funds to buy the needed materials and Bill Kolb Jr. Subaru generously stepped up and provided the funding needed to complete my project. I am happy to say that I completed my project and was recently awarded the rank of Eagle Scout. Photos of the ramp, dedication plaques and my Eagle Scout Letter is attached. Thank you, Bill Kolb Jr. Subaru for your support and for making this possible.
---
Bill Kolb Jr. Subaru is always there for us. - Debbie D
We at Hi-Tor Animal Shelter value our partnership with Subaru greatly. One of Subaru's Love Promises is their care for pets, and they have made a positive impact in the community by helping shelters around the county. Subaru recognizes the indisputable fact that over 6.5 million pets go into shelters every year. By conducting pet adoption events and partnering with their retailers to provide shelter supply kits, Subaru leads by example in care for abandoned pets. Since 2015, Subaru has helped over 230,000 animals all over the country. Hi-Tor Animal Care Center recognizes the efforts by Subaru keeping with their values of community building and providing more than just cars to their customers. Using their popular brand and value recognition among the community, Subaru strives to bring awareness and change to how pets are treated in our society. Being a trusted brand, people like to volunteer and partner with Subaru to help pets in need. We are very appreciative of the many donations and events that Subaru has helped conduct with our shelter. At Hi-Tor, our values of accepting all and any pets, being a no-kill shelter, and striving daily to improve the lives of pets, align closely with the philanthropic ideas at Subaru. We look forward to continuing this partnership and help make a positive impact on the lives of pets, and the larger community around us.
---
Customer Service and Dedication - Thomas C
Over the past several years I've had the opportunity to observe and work with the staff at Bill Kolb Jr. Subaru from different perspectives. As one of the beneficiaries of the Subaru Share the Love campaign and as a customer. As the CEO of Make-A-Wish Hudson Valley I have come to see and be inspired by the dedication of all the staff to this great campaign that truly makes a difference in our community. They have taken the time to truly understand our mission and their spirit to make the campaign a success is palpable. In fact, during the 2019 campaign, Bill Kolb Subaru was the #1 dealership in the United States in total funds raised for Make-A-Wish. A truly remarkable achievement that is bringing hope to so many wish kids and their families who really need it. The staff at Bill Kolb has managed to blend top business expertise and customer service with a dedication to truly make a difference for the charities that Subaru so generously supports.
---
Nyack Homeless Project Partners with Subaru - Litany B
The Nyack Homeless Project, and all Volunteers know that without the help of Chris Flood and Bill Kolb Jr. Subaru we would crucially be limited in our effort to feed and clothe over 8000 men, women, teens and especially children during the cold winter months throughout Rockland County. We are happy to partner with a company and people that have compassion, commitment, and caring especially during this time of Covid-19 when even more people are in need. Thank you. Bill Kolb Jr. Subaru is truly a cherished member of the Nyack Homeless Project Family. Litany Burns, Director NHP Bill Kolb Jr. Subaru's relationship with the Nyack Homeless Project makes such a difference every year. Together we build community and partnership to help feed and clothe Rockland through the winter. This year more than ever, the need is enormous, so the aid we receive with you goes toward buying food and winter clothes to help our most vulnerable neighbors. Tamar MacCallan-Finkelman We all know leader position this year is rough on so many people. Nyack Homeless Project has always tried to help everyone we can, and this year especially we have such an important job to do. With Bill Kolb Jr. Subaru's donation, we will be able to get many more supplies that we need. This incredible donation will be such an important contributor to our yearly donations to shelters. Even though Bill Kolb Subaru's donations have always been such a huge help to our project, this year the donations have been above and beyond and are truly incredible. Thank you so much! -Talia Spatz, Youth Coordinator
---
Supporting our First Responders and Boy Scouts - Alexander N
I write this letter in appreciation of Bill Kolb Jr Subaru and their employees. My Name is Alexander J Nicholas, I am the First Assistant Chief of Greenwood lake Volunteer Fire Department. One of our Junior members is working on his Boy Scout Eagle Project and needed a lot of assistance with a considerably large project, to benefit the Fire Department and the Community as a whole. Christopher Minns designed and set out to build a low angle rescue climbing course, for our mountain rescue division of the fire department. Christopher's training course is as tall as a small house, and almost as big as one. The structure is heavy timber, treated wood, construction for strength to allow numerous rescue personnel descending and ascending at once, while simulating various basket and rope rescue operations. As a department, we are frequently called to duty on the Appalachian Trail, throughout the year for many rescues. Christopher, as a junior member of our fire department, has participated in numerous rescues on the mountains and saw the need for better, more accessible, training. After numerous recommendations that Christopher look for a smaller project, he persisted. He got Boy Scout board approval for his project and set out to work. This being a large and very expensive project for a 17-year-old, he needed help. Christopher raised as much funding as he could, but with COVID and employment difficulties throughout our heavy hit area, he fell very short. As he was close to cancelling and accepting a much smaller project, he called Bill Kolb Jr Subaru to ask for help, as they have been friends of our local community for years. They could not be more willing to help, in fact, they offered to fund everything he was short, if it allowed him to complete his Eagle Project and help our community. Bill Kolb Jr Subaru saw this as both a worthwhile and monumental size Project. We thank Bill Kolb Jr Subaru for always stepping in and helping everywhere they are given an opportunity to make a difference.
---
Always Willing to Go Above and Beyond - Richard B
Boy Scout Troop 121 was able to expand our efforts and the benefits to our community this year. As a direct reflection of our efforts and help last year, we were asked if we could expand our local terror trail to include surrounding villages and towns. Poised with the problem of more that doubling the size of our attendance and entertaining an estimate of over 2000 people, essentially by Boy Scouts, this was becoming a large problem. We decided to ask for help to pull this off. The volunteer Fire department, stepped up, the village stepped up, the police were brought in, even the Volunteer Ambulance Service agreed to attend. All to keep the crowd safe. We asked all the local businesses for help with some success. Then we contacted Bill Kolb Jr Subaru and asked for their help again this year, only now on a much larger scale, and of course Bill Kolb Jr Subaru stepped right up, big time with volunteers, some financing, and even some very creative guidance to help us out.As things came together our shortcomings more pronounced, and having been declined by others, we needed even more help, and again to our rescue, Bill Kolb Jr Subaru stepped up!! Fast forward to the end of the night,We sent over 2,000 people down our scout-built terror trail. We entertained well over 1,000 kids in our bounce house obstacle courses, slides, and rooms. We were successful in entertaining the adults in the crowd with our live rock band, and we were able to keep up with enough food and drinks for everyone, all night long.Without the people willing to help like Bill Kolb Jr Subaru, helping with volunteers, financing, and creative ideas to help us pull this all together, there is no possibility that about 10 parents and 30 scouts would be able to pull it off successfully.Thank You very much for all your help. 2019 Troop 121 haunted Terror Trail was a major success!!P.S. we are being told after this incredible success, we should be planning on at least 3,500 next year!!
---
Bill Kolb Jr Supports SOMS - Chad C
Thanks to Bill Kolb, Jr. Subaru for donating science books and a $1,000 Staples gift card to South Orangetown Middle School today, as part of the Subaru Loves Learning initiative! "We appreciate the opportunity to receive additional classroom resources to expand our students' STEM learning experiences," said Principal Dr. Chad Corey, who joined Deena Kramarcyzk and Michael Ryan's science class in accepting the donation from dealership representatives. Subaru and the American Association for the Advancement of Science have been partnering for the past five years to "broaden students' worlds with the study of science, engineering and innovation" through the program, which provides schools with titles selected as winners and finalists of the AAAS/Subaru SB&F Prize for Excellence in Science Books. This is the second time that SOMS has been a program beneficiary; Bill Kolb, Jr. Subaru first donated books to the school in 2017.
---
Subaru First Responder - sye D
I was a witness to a terrible accident and a perfect example of real human compassion.It was about 3:30 in the afternoon when I saw a vehicle come off the main road and speed through the entire Subaru service center parking lot and rolling over as it hit a stone wall at the edge of the parking lot. Moments later I saw a man run out of Bill Kolb Jr Subaru to the overturned vehicle and start talking to the women that was inside the vehicle through the windshield. He was telling her to stay calm, at the same time instructing another bystander to call 911 and to ask for an ambulance and fire dept. After a few minutes of the man talking to her through the overturned vehicles windshield, I could hear her start screaming. At this point I saw the man jump up on the roof of the vehicle next to hers, break the driver's window and reach in to lift and hold the women. After about 10 minutes of holding the victim and talking to her, he asked another Employee to go to his truck and get a rescue strap out of his coat. A minute later I saw the employee arrive back with a Greenwood Lake Fire Department coat and pull a red strap out of the pocket. he appeared to wrap the strap around the women in the car and asked another bystander to assist in holding her. Shortly after that the local fire department, an ambulance, and a lot of police all arrived at the dealership. The Fire department looked over the vehicle and began to cut through the windshield to get to the women, I would assume to relieve the Subaru employee who was holding the women up for quite some time at this point. The fire department used the jaws of life to begin cutting the roof off the vehicle, at the same time they were cutting through the windshield to get in. The whole time this Subaru employee was holding up the victim, talking calmly to her, telling her she was going to be OK, and relaying questions and answers to the ambulance crew. After about 25 minutes of this man holding up this victim, the fire department were able to get inside to the victim and relieve the Subaru employee. The man climbed off the vehicle, looking drained and was shaking his shoulders and rubbing his chest, apparently very sore. This Subaru employee I later found out was the Service and Parts Director Joe Minns. He is a Greenwood lake Firefighter, a Boy Scout Leader, and most obviously a great leader as his employees seem to love him. People like this are why I buy Subaru!! S.D. P.S. I later found out the women had a broken pelvis.
---
Bringing Warmth and Love to Patients! - Daniela V
Bill Kolb JR Subaru and The CTWHV Chapter of the Leukemia & Lymphoma Society (LLS) have partnered to make a difference in the lives of people battling cancer in the Nyack community. The partnership called Subaru Loves to Care provides warm blankets and loving messages of hope and inspiration written by Subaru customers to patients fighting cancer at Montefiore Nyack. HUGE Thank you to Bill Kolb, JR. Subaru for donating 80 beautiful blankets to Montefiore Nyack to spread warmth to their patients. Patients are in the infusion center for hours at a time and these blankets keep them warm as they are going through treatments. On behalf of LLS and everyone fighting or in remission from cancer and the people who love them, huge and heartfelt thanks to Bill Kolb, JR. Subaru and the entire Bill Kolb, JR Subaru family for joining the LLS mission to create a world without blood cancer.
---
True Community Service; - V C
Over the past few years, Greenwood lake has struggled to keep the non-profit holiday trail operating without much luck. Last year, as a last resort, the Volunteer Fire Department and Boy Scout Troop 121 took over the program, in its entirety, with only days to plan for the event. Being a massive undertaking, they asked for help from anyone that was willing to step up and assist. Some locals stepped up, family and friends did as much as they could. The dedicated group pulled off the event with some successes. However, to breathe life back into a dying community event, the event would need much more than the last-minute decorations and prep last year brought. As a member of the community, I have witnessed the work involved in trying to rebuild this event locally. People started weeks before cleaning the area, grooming the trails for safety, delivering electric power throughout the area, many people working into the late nights. What the team of volunteers and workers pulled off this year was nothing short of amazing. We had a safe environment for kids to Trick or Treat put on by all the local businesses, we had a parade put on by the fire department, we had a ¼ mile terror trail for the community to walk through on by BSA Troop 121, and a single car dealership, from out of town, Bill Kolb Jr Subaru helped our community by filling the Soccer field with bouncy houses, a hayride, and even a climbing wall, all to help our community revitalize and grow. We tend to expect our own community to participate in helping with these events, it's our community. However, when a company like Bill Kolb Jr Subaru, who is not located in our community, has no vested interest in our community, see the value of a community trying to help itself and steps up to make it a little easier, a lot better, without any expectations, that's true community service. We as a community salute and thank Bill Kolb Jr Subaru.
---
The Building Blocks Foundation - Betsy H
The Building Blocks Foundation, in partnership with NYC Community Schools and with the collaboration of the Allstate Foundation, are working together to provide new clothing to children who are homeless and assisting NYC Public Schools. The goal of the foundation is to improve student morale and the overall learning experience by providing clean and adequate clothing to over 111,000 children from grades 5-12 in Bronx Community Schools. Our goal is that these children can "feel good" about themselves and learn freely. This past December 2017, and with a donation from the Allstate Foundation, over 2,300 boys and girls received new socks, t-shirts and undergarments that were delivered to and distributed through their schools. Students, parents and school staff were delighted and grateful but these children need so much more. We hope you consider our participation in your Subaru "Share the Love Campaign" and be able to increase our giving to homeless children. Please contact Jay Mota at (914) 565-4287 or jmota@thebuildingblocksfoundation.org for more information Thank you!
---
Trust - Dylan J
In June 2017, a couple days after my birthday on June 6th, I started looking into the wrx. My brother was the first one to buy a Subaru in my family and it was a 2002 wrx. I recieved my 2008 wrx as a surprise present after graduating high school. I learned to drive the 5 speed and fell in love with it immediately. After repairing some problems from the previous owner the car started to perform extremely well. Now i look to my car whenever im feeling down or just bored. I gained so much trust in my car that i can take it wherever i want and whenever i want. It helps me get home in such terrible weather conditions. I had the car for only 4 months but it feels like i had it forever.
---
Learning in the best environment! - Joseph M
Bill Kolb Jr Subaru continues to support our young men on their journey to become responsible, productive leaders in our community. Maryann Kolb and her team were instrumental to our troop sending 34 Boy Scouts and 6 Adult leaders on our 90-mile canoe trek, in 3 days, and ending with another week of camping and learning at Curtis Read Scout Reservation in Bryant Lake NY. Our boys are grateful for the skills they have learned this year including welding, household electricity, horsemanship, environmental science, conservation, and many more. Our Troop recognizes this dealership as one of our largest supporters, helping our troop grow every year. Our troop is forever grateful for Maryann Kolb and her team, for the constant support and being a driving force behind our troop and its growth every year.
---
Celebrating American Pride with Subaru! - Joseph M
Bill Kolb Jr Subaru was one of the proud sponsor's of the Annual Greenwood Lake 4th of July parade. People of all ages attended or participated in this event. Bill Kolb Jr. Subaru donated a rare 9-11 Memorial Flag which was proudly carried by the Boy Scouts of Troop 121. Subaru vehicles were on display and Subaru give-aways were passed out to the crowd. It was a proud day for America and for Subaru! Dear Mrs. Kolb, Last Night Joe Minns stopped by my house to give our Troop the 10th anniversary New York State 9-11 flag you donated to us. I just want to start by saying that as a New York City police Officer who responded to Ground Zero a little under 3 hours after the second tower collapsed and spent the next 14 days digging thru the rubble on a recovery mission, I am personally touched by your thought to give the Flag to our Troop. Troop 121 has several adult leaders that are or were Officers during the attacks as well as many other members of our community that responded to Ground Zero, including the Greenwood Lake Volunteer Fire Department and Ambulance Corps.. I give you my promise that the Flag will be displayed in a proud and dignified manner at all our Scouting events. We truly thank you and Bill for your continuing support of our Troop. Sincerely,Vince Carney, Committee Chairman, Troop 121Greenwood Lake
---